Happy new year! Now is the right time to perfect your skills in one of the most popular programming languages: Python.
Python is often part of introductory Programming classes in American universities.
HumbleBundle has just announced this all-new Python Bundle presented by Pakt.
As usual, it is a pay-what-you-want sale, with 3 levels: $1, $8 and $15 to get all the books and the accompanying videos.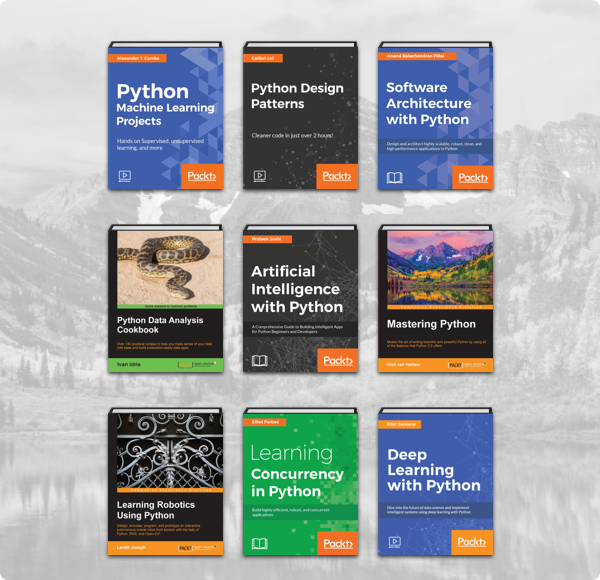 This bundle includes:
Artificial Intelligence with Python
Beginning Python
Building RESTful Python Web Services
Deep Learning with Python
Expert Python Programming
Learning Concurrency in Python
Learning Python Web Penetration Testing
Learning Robotics using Python
Mastering Python
Mastering Python Networking
Modern Python Cookbook
Python Data Analysis Cookbook
Python Data Science Essentials
Python Data Structures and Algorithms
Python Design Patterns
Python GUI Programming Cookbook
Python High Performance
Python Machine Learning
Python Machine Learning Projects
Python Microservices Development
Python Programming with Raspberry Pi
Software Architecture with Python
Three Months of Mapt Pro for $30 Coupon
Web Development with Django Cookbook
Pakt (pronounced packed) may be an unknown publisher to you; this could easily be explained by the fact that Packt is of the print-on-demand kind. Their focus is more on the DRM-free ebooks realm than physical books, but if you want a hardcopy, they can happily make one just for you. Thus they avoid the usual pitfalls of the physical publishing world: inventory issues.
This does not make their books' content any less valid than a more well-known publisher like O'Reilly, with its drawings of stylized animals adorning the instantly recognizable book covers.
↪ Get the Python by Pakt HumbleBundle book bundle
VPNrevie.ws is part of HumbleBundle's Partner Program. We may receive a commission if you purchase this bundle by clicking our link. With HumbleBundle, you can customize how much you want to contribute to the Publisher, Humble's tip and our commission.