So, you've just updated your PC to the brand new smoother, faster, more user-friendly Windows 10?
Windows 10 has great features, like the virtual assistant, Cortana, virtual desktops, a more mouse and keyboard-friendly start menu with live tiles - Windows 10 is everything Windows 8 should have been-.
And contrarily to the usual upgrade cycle of Windows version, upgrading to Windows 10 is free for you, if you already have Windows 7, 8 or 8.1 on your computer.
But you should be aware that this free update comes at the price of your personal information. In fact, if you accept Express setup during Windows 10 installation or upgrade, the OS will collect all information about you, including your text message and their contents, your location history, your contact book and calendar notes about your plans for dates, and much more.
Windows 10 is spying on almost everything you do.
Sure, you've accepted the oh-so-long Terms of Service and EULA (End User License Agreement) when you upgraded. But have you really read it?
Microsoft's 45 pages service agreement is a tad long, but everyone should be interested in what's in the Privacy Statement:
"Microsoft collects information about you, your devices, applications and networks, and your use of those devices, applications and networks. Examples of data we collect include your name, email address, preferences and interests; browsing, search and file history; phone call and SMS data; device configuration and sensor data; and application usage"
Why so much data is collected? The reason could be to improve apps, make them more tailored to you. But it could also be for targeted ads.
The document continues:
"We will access, disclose and preserve personal data, including your content (such as the content of your emails, other private communications or files in private folders), when we have a good faith belief that doing so is necessary to"
But not all is lost: you can opt out of all the 'invasive' features of Windows 10.
How to opt out of Windows 10 Spying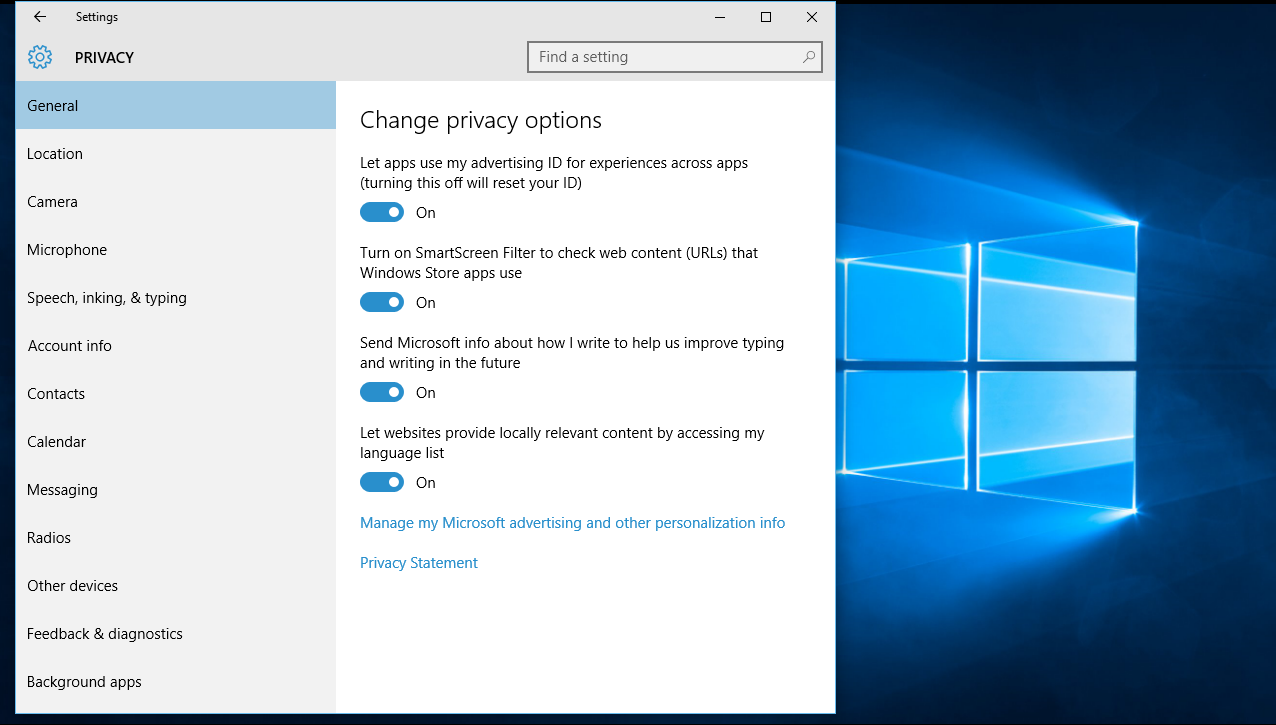 First, open Settings in the Start Menu. Click on the padlock, labeled Privacy, Location, Camera. In this section, you'll find 13 subsections, ranging from General, Location, to Feedback & diagnostics and Background apps.
You can disable anything that worries you there. The unique advertising ID feature is one of the most privacy-invasive feature, as it's tied to your email address, and it follows you wherever you go in the Microsoft world. You keep the same ID among devices, services, app downloads, OneCloud uploads...
That way, ads are always personalized for you, even in Solitaire that was turned into a freemium game in the latest version of Windows
You could also disable Cortana, although she's one of the best features of Windows 10.
Finally, you'll want to disable personalized ads, or targeted ads. To opt-out, go directly here, and be sure to switch off both options.
Having to turn off privacy-invading features over 13 different screens and a webpage isn't exactly transparency
Some users have been surprised that Windows 10 is using your internet connection to deliver updates to other users.
Indeed, Windows 10 is using a new update system based upon P2P: the Windows Update Delivery Optimization. Once you've downloaded an update, your computer automatically shares it to other people online.
If you don't want to give your internet bandwidth to others, you can disable WUDO, even though it's enabled by default. To disable it, go to Settings --> Update & Security --> Windows Update --> Advanced options --> Choose how updates are delivered and then switch the toggles off.
Finally, Windows 10 has been criticized for the removal of the option to not install updates: in Windows 10, you can either install and restart now, or install and then ask permission to restart. Sure, it forces you to stay up-to-date, and to always use the most secure software. But it has some caveats, especially with drivers: people with Nvidia cards were forced to download a driver update that made their PCs crash again, and again.
It was such an important problem that Microsoft published a troubleshooter to prevent the automatic installation of bad drivers or updates you don't want, hiding them.
---
Source: RT, The Guardian