Avast SecureLine VPN is a VPN service made by the famous Czech antivirus company Avast
While Avast is well-known for their free antivirus, their VPN service is paid at $59.99 a year for the PC version. You can also try it free for seven days.
There's not much to set Avast SecureLine apart from the rest of the VPN services, except its deep integration with the antivirus from the same vendor, and its simplicity.
You can now use Avast SecureLine VPN without installing Avast antivirus. They now offer a separate package with just the VPN, if you're already using a security suite from another vendor.
Still, if Avast is your antivirus of choice, SecureLine integration makes things easier.
20% off Avast SecureLine VPN
To test Avast SecureLine VPN, I bought a license of Avast Pro Antivirus, which is the paid version of their free offering, minus the annoying popups asking you to upgrade.
But they also have higher-end products including a firewall, like Internet Security or even Premier which comes with all the bells and whistles (file encryption, shredder, and other tools that make it more a mega-suite than the entry level security suite).
Installation
Installing Avast! is rather simple: you launch the setup wizard and follow the instructions. The only weird thing is the screen called 'Please Don't Skip This - Read it Carefully.' which explains that just like search engines, Avast collects personal information such as your use of the software, to 'help [them] understand new and interesting trends.'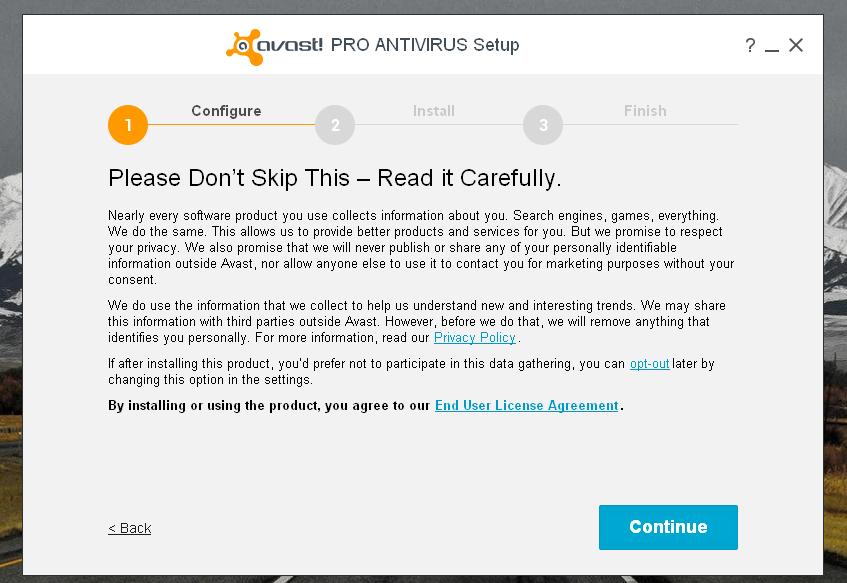 When you click continue several times, you'll face the usual loading bar for the installation of the different components.
At the end of the setup wizard, you get... another installation wizard!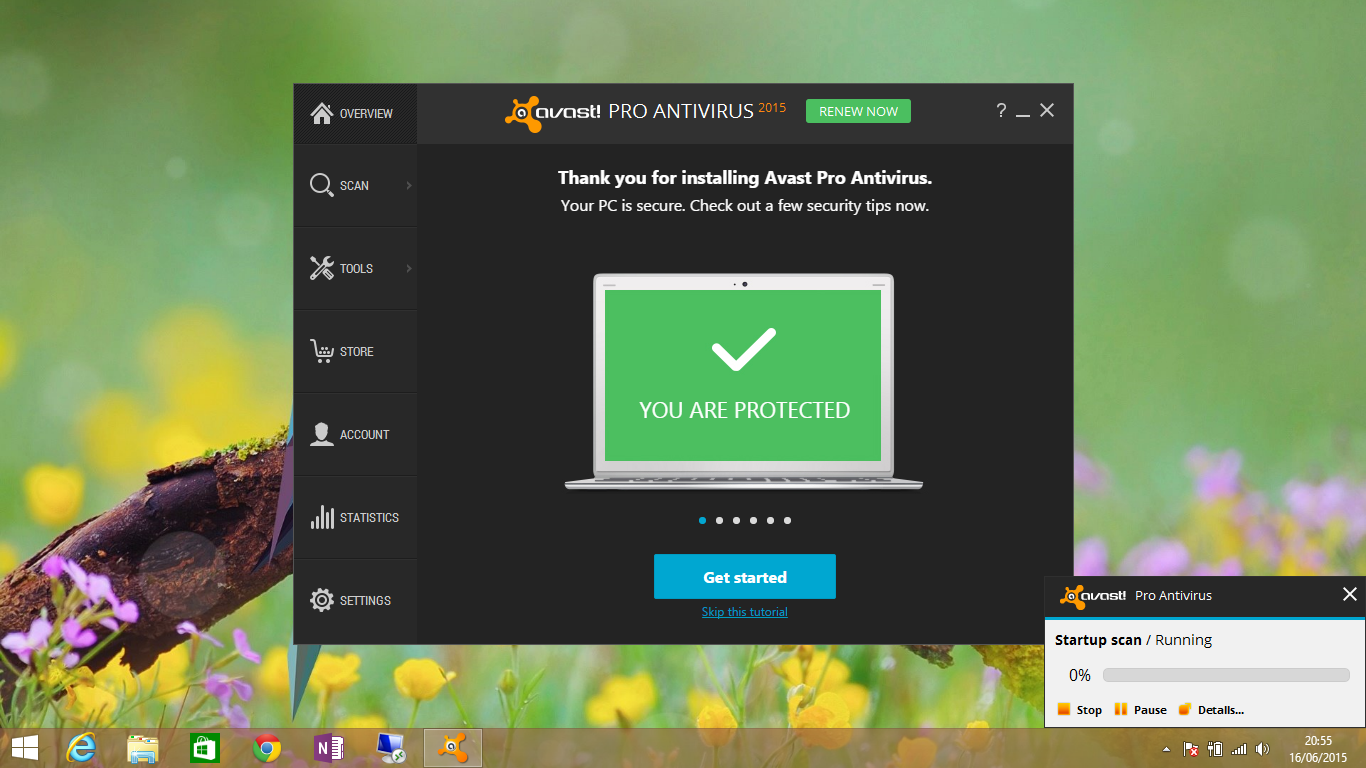 Meanwhile, avast! is silently running a virus scan in the background.
I won't go extensively over the antivirus part, as our primary focus here is the VPN service.
Avast! SecureLine interface
The particular thing about this VPN service from avast! is that it's integrated with the UI of the antivirus software. You can find it either in the tools menu, or on the main screen of the app, as it has a big button dedicated to SecureLine.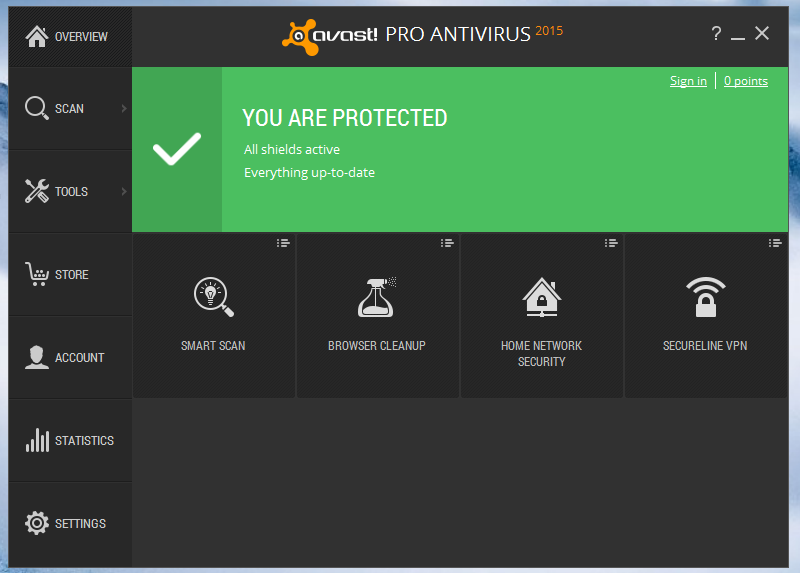 The UI of the VPN itself is pretty nothing to write home about: a blue Connect button, with an arrow to select the country you want to use as an exit point.
When you first use SecureLine VPN, everything happens in the background: there are no OpenVPN popups, nothing to accept. Even Windows UAC won't even ask you to allow changes to your computer. In fact, the installation of the VPN is completely silent.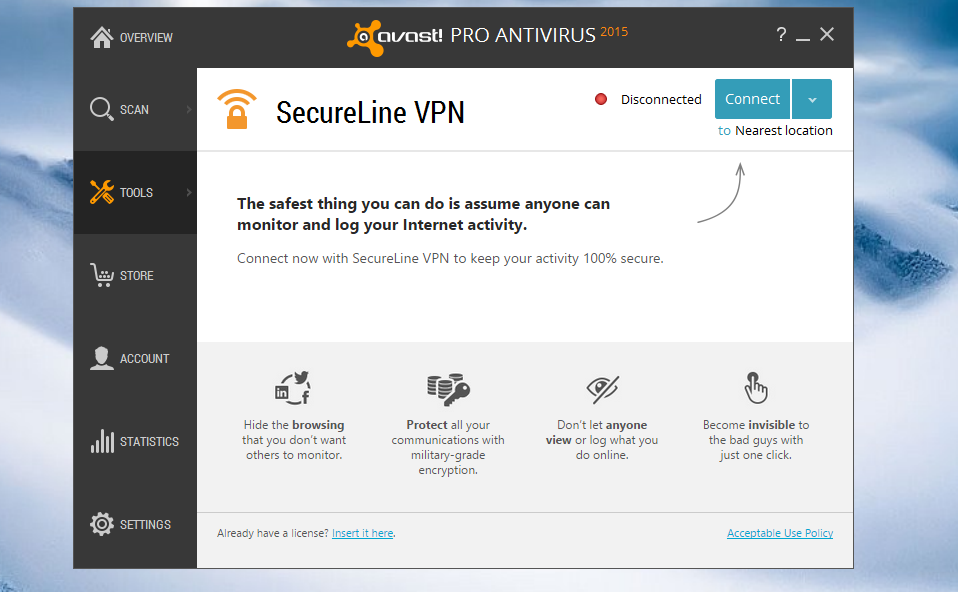 Countries & locations
About countries, the choice is rather limited. In the dropdown, you can choose among:
Nearest location
Chicago, US
Dallas, US
Miami, US
New York, US
Salt Lake City, US
San Jose, US
Seattle, US
Amsterdam, The Netherlands
Bursa, Turkey
Frankfurt, Germany
Hong Kong, China
London, United Kingdom
Madrid, Spain
Melbourne, Australia
Mexico City, Mexico
Montreal, Canada
Paris, France
Prague, Czech Republic
Saint Petersburg, Russia
Seoul, South Korea
Singapore
Tokyo, Japan
Warsaw, Poland
While this might seem an impressive list, you can see that there are only 17 countries on that list, but several cities in the US.
If these locations are sufficient for you, that's great! Otherwise, if you need countries like Italy, you're out of luck.
I tried connecting to the London server to test BBC, and weirdly enough, I ended up in Prague. I tried again, and SecureLine VPN still connected me to the Czech Republic.
The most logical explanation would be that the poor only UK server was full, thus redirecting me to a server still available.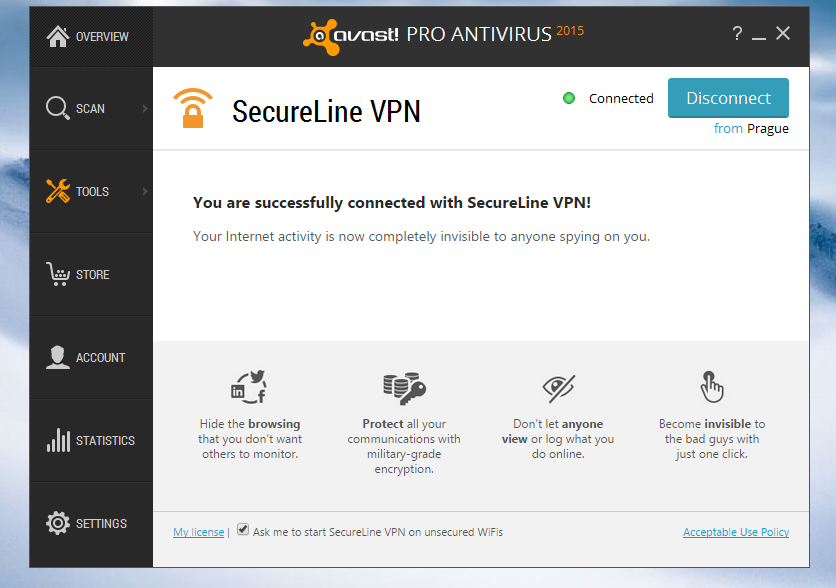 Speed
On a 100Mbps cable connection, the speed wasn't really good; a ping of 45ms, 8.21Mbps download, and 4.62Mbps upload aren't exactly fast. But again, that doesn't mean much, as I was forced to connect to a Czech server instead of one in UK.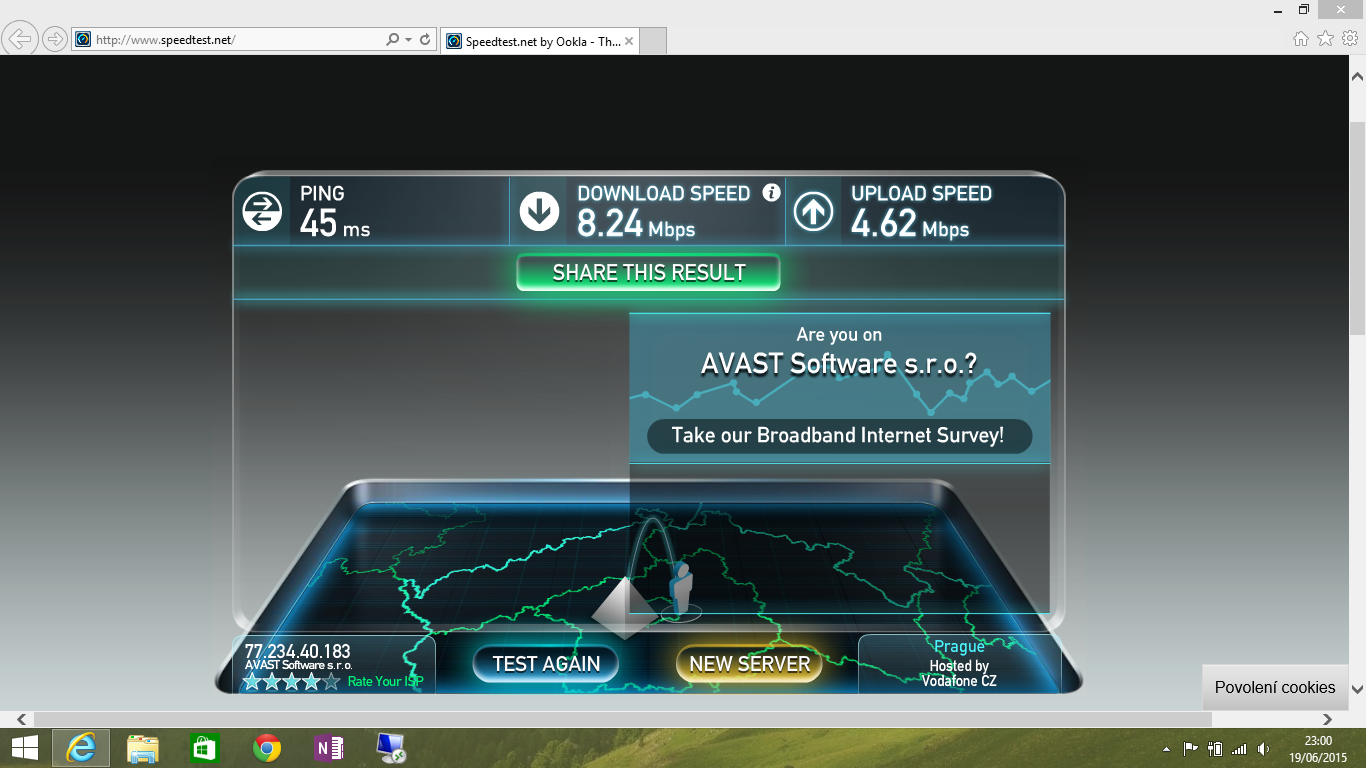 Conclusion
The Good
Directly integrated with avast! antivirus
Easy, silent installation
Easy to use: choose location, click connect, and you're done
Several locations
The Bad
You can't change any setting, so if you're a power user, you're kind of out of luck.
Servers are displayed even though they're not available or full
Wrong location can be assigned automatically: if you select London, you can end up in Prague, Czech Republic.
Rather slow connection, but that depends on your distance from the server.
The Ugly
Final rating : 3/5
Avast SecureLine
VPNrevie.ws
Rating:

3

out of

5
What do you think about Avast SecureLine VPN? Would you trust a VPN from an antivirus company?
Tell us in the comments below: